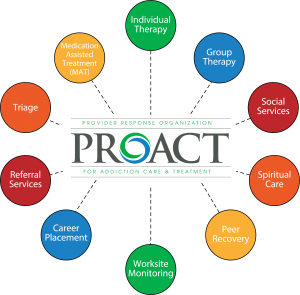 A separate 501(c)(3), PROACT is an outpatient center that brings together behavioral, social and medical resources from the community to provide comprehensive care to those seeking treatment for substance use disorder. First and foremost, the PROACT model is about the individual—recognizing that recovery looks different for each person.
PROACT is committed to:
Bridging services between hospitals and outpatient care
Providing rapid response admissions for referrals
Providing referral options for community physicians
Expanding the treatment capacity for our service area
Developing effective substance use disorder treatment research
Becoming a model for treatment delivery
PROACT has assembled a team of experts in addiction medicine, experienced addiction therapists, and family navigators to offer a variety of treatment avenues including both abstinence-based services as well as Medication Assisted Treatment (MAT). At PROACT, treatment begins on Day 1 with a clinician who conducts a comprehensive, structured clinical assessment to inform a diagnosis, a recommended plan of care, and to identify social or personal needs requiring further referral. Individuals seeking treatment at PROACT are given timely access to a physician as well as all other services offered, including:
PROACT also leverages the resources of the Marshall University Joan C. Edwards School of Medicine to foster a data-driven approach to treatment through research and West Virginia's only addiction medicine fellowship in family medicine.
PROACT serves as a single, regional referral point to assess patients following discharge from local emergency rooms and inpatient detox units and by referral from our quick response teams and other emergency medical response teams. PROACT also accepts self-referrals and referrals from community providers.