Together, we can reduce the impact of addiction in our communities.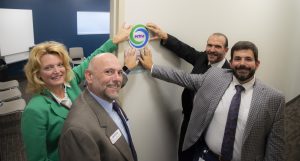 In Cabell County, West Virginia, alone, about 10,000 residents have a substance use disorder. Those seeking recovery were often placed on a waiting list until PROACT opened in 2018. Today, PROACT sees about 500 patients per month who are ready to made a change.
When you give to PROACT, you are helping bring together behavioral, social, spiritual land medical resources from the community to effectively, quickly triage patients suffering from addiction.
PROACT is a coordinated effort of the medical community that relies on the generosity of its partner organizations and financial supporters to provide comprehensive treatment solution in a single-service hub. Some PROACT services are allowable charges covered by private insurances and Medicaid. Other services, such as spiritual care, career training & development and job placement, are provided through the generosity of our partner organizations and private donors.
All donations to PROACT are tax deductible. Naming opportunities are available starting at $5,000. For more information, please contact PROACT Director Michael Haney at 304-696-8720 or haney6@marshall.edu.
Levels of Giving

How to Give
Thank you for supporting PROACT. Online giving for PROACT is not yet available. Download our Annual Giving Form.
Please make your check payable to PROACT and mail to:
PROACT
c/o Michael Haney
800 20th Street
Huntington, WV 25703
Payroll Deduction
Payroll deduction is available for Cabell Huntington Hospital, Marshall Health and St. Mary's Medical Center employees. Contact your organization's payroll department for more information.
More Info
To learn more, make a gift or get involved, please contact PROACT Director Michael Haney at 304-696-8720 or haney6@marshall.edu.