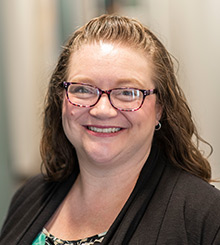 Marybeth Smith, MA, LPC, ALPS
Therapist
Biography
Marybeth has worked in a variety of capacities in the behavioral health field since 1996, treating children, adolescents, and adults with mental health and substance use disorders. Previously, she served as a director of outpatient addiction recovery services and an adult outpatient supervisor with Prestera Center as well as a supervisor/social worker with Children's Home Society's Huntington Child Shelter. As a therapist at PROACT, she provides group and individual counseling, intake and triage services. She is passionate about working with patients on the road to recovery in order to help build a stronger, healthier community.
Education
Undergraduate: Marshall University, Huntington, W.Va.
Graduate: Marshall University, Huntington, W.Va.
Certifications
Approved Licensed Professional Supervisor, West Virginia Board of Examiners in Counseling
Licensed Professional Counselor, West Virginia Board of Examiners in Counseling