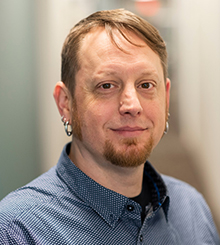 Tim Adkins, LGSW
Therapist
Biography
Tim is a licensed therapist through Marshall Health who sees patients at PROACT. He is currently under supervision to become a licensed independent clinical social worker in West Virginia. He has worked as a therapist in the field of substance use disorder for more than five years. As a graduate student, Tim completed fieldwork in behavioral health at the Hershel Woody Williams VA Medical Center. He came into social work after founding a non-profit organization to provide relief and bicycle-oriented support to individuals experiencing homelessness.
Education
Undergraduate: Marshall University, Huntington, W.Va.
Graduate: Marshall University (MSW), Huntington, W.Va.
Certifications
Licensed Graduate Social Worker, West Virginia Board of Social Work