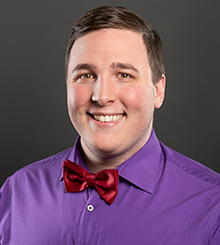 Christopher Lucas, MA, LGSW
Therapist
Biography
Chris completed his Master of Arts in Sociology in 2018 and his Master of Social Work in 2020, both at Marshall University. As a graduate student in social work, Chris completed fieldwork in behavioral health at PeaceTree Center for Wellness in Barboursville, W.Va., where he worked with children and adolescents with histories of psychological trauma. Additionally, he completed fieldwork at the Hershel "Woody" Williams VA Medical Center, where he worked with Veterans who were at high risk for suicide, had been diagnosed with substance use disorders, and had experienced homelessness. Chris was previously a therapist at River Park Hospital, where he provided individual and group therapy for chronically mentally ill, forensically committed and geriatric patients. Chris is now a therapist through Marshall Health at PROACT and is currently under supervision to become a licensed independent clinical social worker in the state of West Virginia.
Education
Undergraduate: Marshall University, Huntington, W.Va.
Graduate: Marshall University (Master of Arts - Sociology; Master of Social Work), Huntington,W. Va.