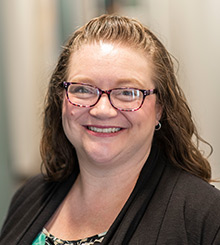 Marybeth Smith, MA, LPC, ALPS
Therapist
Biography
Marybeth has worked in a variety of capacities in the behavioral health field since 1996, treating children, adolescents and adults with mental health and substance use disorders. She is passionate about working with patients on the road to recovery in order to help build a stronger, healthier community. As a therapist at PROACT, she provides group and individual counseling as well as intake and triage services. She specializes in clinical assessments and therapy services. She is a past director of outpatient addiction recovery services and adult outpatient supervisor with Prestera Center and supervisor/social worker with Children's Home Society's' Huntington Child Shelter.
Education
Undergraduate: Marshall University, Huntington, W.Va.
Graduate: Marshall University, Huntington, W.Va.
Certifications
Approved Licensed Professional Supervisor, West Virginia Board of Examiners in Counseling
Licensed Professional Counselor, West Virginia Board of Examiners in Counseling